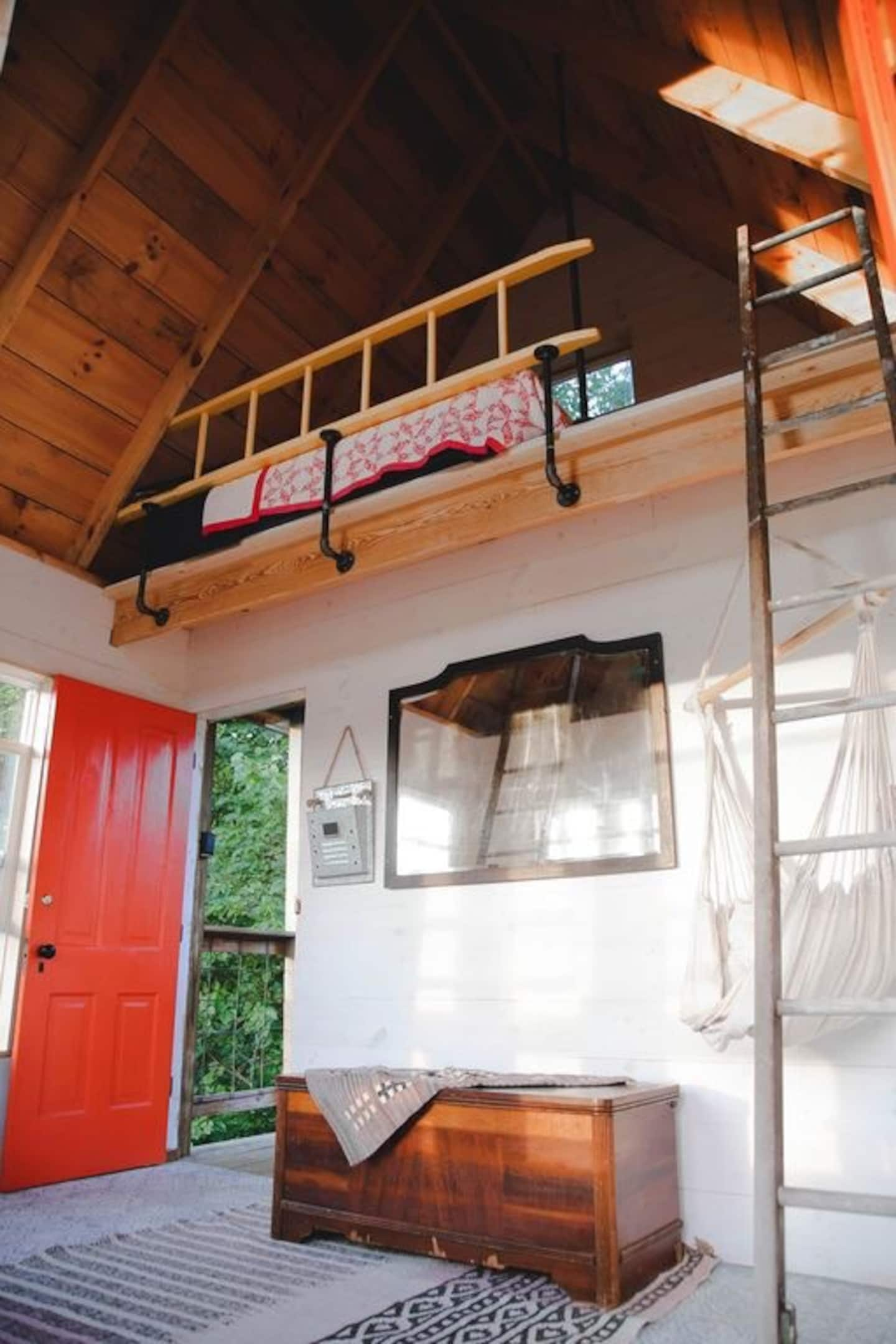 Best Treehouse Ohio Rentals
---
11 Dreamy Treehouse Ohio Rentals
---
Incredible Recommendations for Every Style & Budget
---
Dreaming about a trip to Ohio?
Save time on your treehouse Ohio rental search, including our recommendations for best Ohio Treehouse choices.
Selection Criteria
WHERE TO STAY Ohio
---
We searched every Ohio neighborhood for the best treehouse rentals in Ohio…so you wouldn't have to! In this comprehensive Ohio vacation rentals guide, we only recommend the best Ohio Treehouse deals.
The properties we show here were selected based on a combination of the following factors: the number of reviews of the property itself, the quality of the host, the location, and its relative comparison to other Ohio Treehouse rentals.
5 Secrets to Save Money on Your Airbnb Rentals
FREE EMAIL COURSE
5 little-known tricks to save money on Airbnb.
Ideas, advice & hacks!
Get the Secrets Now
Search the Best Treehouse Ohio Options
---
We have found 11 DREAMY Ohio treehouse options for you. Organized in order of price, we're confident we've found a magical option for your next trip.
TABLE OF CONTENTS
---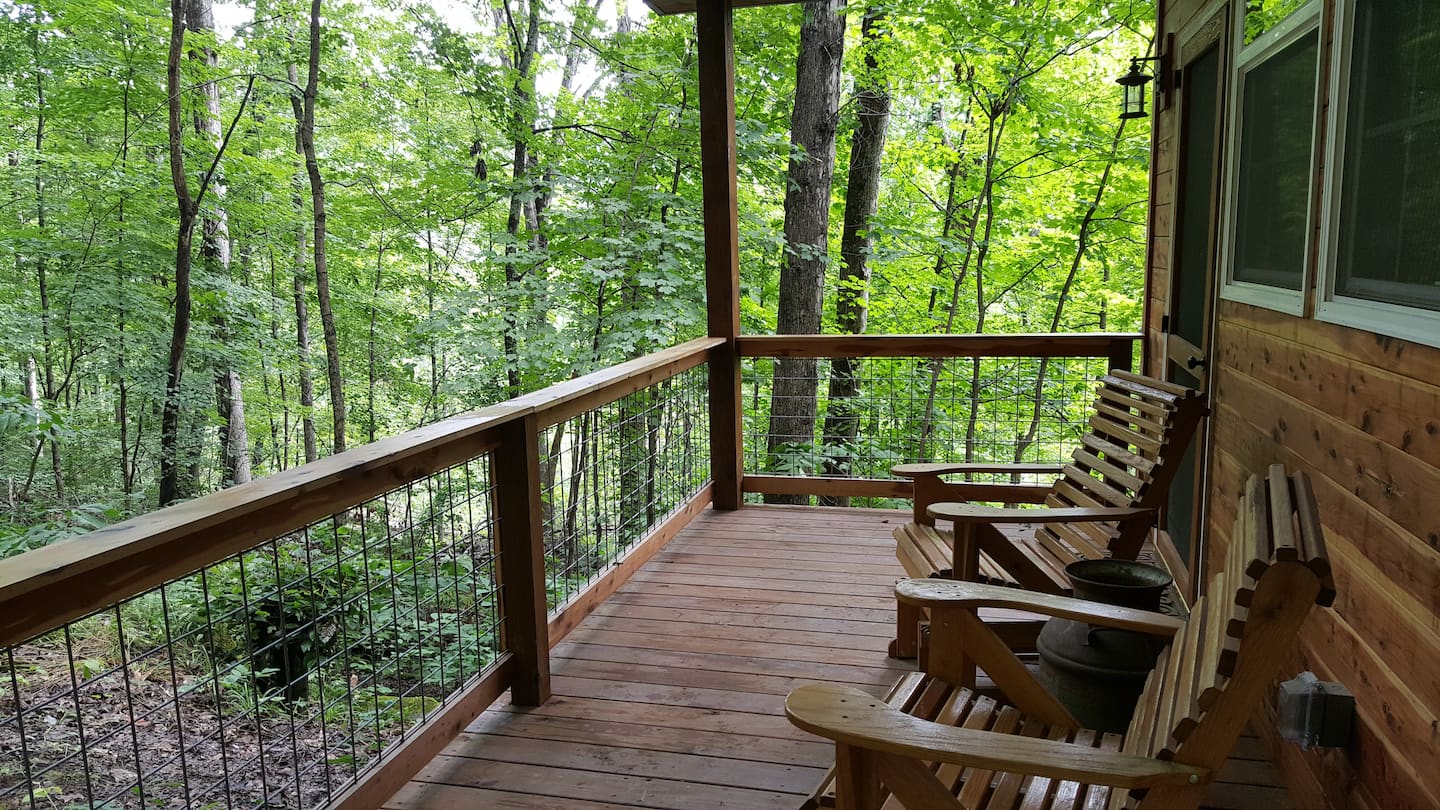 ---
FEATURED LISTING
Our Favorite Ohio Treehouse
Luxury Treehouse Rentals in Ohio
Great lengths were taken by a father and son to craft this space, and make sure it was a unique place for guests. You'll see amazing ceilings, a staircase made from trees, handrails from tree branches, and so on. It's close to Hocking Hills, but you can also opt to just stay in, as you will have all the conveniences and equipment of any home.
Accommodates 7 guests
Beds: 2
---
This space is made out of two shipping containers. That cool factor alone would make you want to stay with your family for even just a quick weekend trip! It's nicely decorated with rustic touches for that comfortable and welcoming feel. You'll have access to great views and a fully furnished kitchen.
Accommodates 12 guests
Beds: 6
---
It may be a small treehouse, but it will have everything you need. You'll love staying among the tree tops and seeing Hocking Hills scenes. It's a great place to have new experiences.
Accommodates 4 guests
Beds: 1
---
Comfort Airbnb Rentals Near Ohio
This is one unique treehouse: it's a shipping container that is placed high among the trees! it's got big windows and deck, both great for admiring nature views. Staying in this place is going to be a totally worthwhile experience.
Accommodates 4 guests
Beds: 2
---
This place will take you back to your younger days, with its swinging rope bridge and simple design - it's your childhood treehouse, just bigger and better. You'll have great views around the place, and you'll get to use an outdoor bathtub! If you're a nature appreciator, rent this space.
Accommodates 2 guests
Beds: 1
---
This space is nicely and cozily designed, and has a nice swinging bridge and an outdoor bath area. It even has a big viewing deck - perfect for just staying in and admiring the outdoors. This treehouse will just want to make you rough it! It's a good enough space for two adults, but you can bring your dogs too and still be comfortable.
Accommodates 2 guests
Beds: 2
---
Take a tiny house and put it way above the ground, and you'll get one awesome treehouse! Stay in this space for some wonderful views, a comfortable bed, and essential amenities. There is also a firepit and outdoor tub to add to the staying experience.
Accommodates 2 guests
Beds: 1
---
Budget Treehouse Rentals Near Ohio
Go off the grid with this treehouse. It has no electricity, has no running water, and the area has very limited cell service. You'll love the fun touches inside, as well as the lovely views. Hike trails, explore the area, and relax at night by the fire.
Accommodates 5 guests
Beds: 2
---
Slow down and enjoy nature in this treehouse. You can get nice views at the top, or go down and chill in the hammock. Enjoy the ponds, waterfall, the small creek, and of course, the woods. It's also just twenty minutes away from the downtown area in case you need anything.
Accommodates 3 guests
Beds: 2
---
Take the weekend to bond with your partner in this simple treehouse in Killbuck. Stay in this simple but cozy space, with fluctuating cellphone service and disconnect from the world but connect with each other. Enjoy the outdoor shower, nature views, and overall unhurried vibe.
Accommodates 2 guests
Beds: 2
---