15 Dreamy Palm Springs Resorts
Disclosure: This Palm Springs resorts page contains affiliate links. Read full Disclosure Policy.
Millions of tourists travel to Palm Springs every year in order to experience this gem in the desert of Southern California.
The iconic wind turbines, fine dining, warm weather, and outdoor activities located here make any trip here worth it.
I have put together a list of 15 dreamy Palm Springs resorts to help you decide where you should stay the next time you travel to Palm Springs.
The resorts are broken down into three categories: luxury, comfort, and budget.
Everyone is looking for a different vacation experience, so make sure you look at all 15 resort choices. Who knows what might catch your eye!
RELATED:
– Best Palm Springs Airbnbs
– 25+ Unique Palm Springs Experiences
– 30 Unforgettable Palm Springs Tours & Excursions
– 30 Best Palm Springs Hotels
– Things to Do in Palm Springs
– Where to Stay in Palm Springs: Best Areas
– Best Time to Visit Palm Springs
---
Table of Contents
---
Luxury Palm Springs Resorts
Situated at the base of the San Jacinto Mountains and just a few minutes away from the Palm Springs Airport is the Renaissance Palm Springs.
Guests who stay here are in close proximity to many of the main attractions of Palm Springs including the Palm Springs Convention Center, various golf courses, and access to nearby outdoor activities such as running, horseback riding, and mountain biking trails.
The resort offers what are called Pure Rooms. These are rooms that are specially designed and created with health and wellness in mind. They feature an allergy-friendly environment and special air purification systems for their guests.
A Palm Springs vacation would not be complete without a trip to the pool! The Renaissance Palm Springs has an outdoor pool with cabanas to rent out, a shallow kiddie pool, and a whirlpool. If you want a relaxing massage, visit the resort's Spa Del Sol.
This resort is best for couples seeking a getaway in Palm Springs, but also accommodates families who are seeking some desert fun.
The Avalon Hotel and Bungalows is all about privacy and luxury.
Guests stay in their choice of room, studio, or bungalow, each in a Spanish-style cottage and with access to the well-manicured grounds and three swimming pools.
If you are looking for a pampered vacation escape, this is the resort for you.
Somehow it maintains a balance of elegance, chic, and luxury without being overbearing.
This resort is good for couples who want a secluded getaway and for families who want to get stay in a bungalow that still gives everyone their own rooms and privacy of being at home.
The Weekend Palm Springs is a small boutique-style resort in the Old Las Palmas neighborhood of Palm Springs with a sleek modern style.
It is a 20 minute walk or a short drive away from the downtown area of the city with shops and restaurants to keep you busy.
A free continental breakfast is included when you stay at The Weekend in Palm Springs.
This resort maintains a strict adult atmosphere, so it would probably be best suited for couples or families with older children.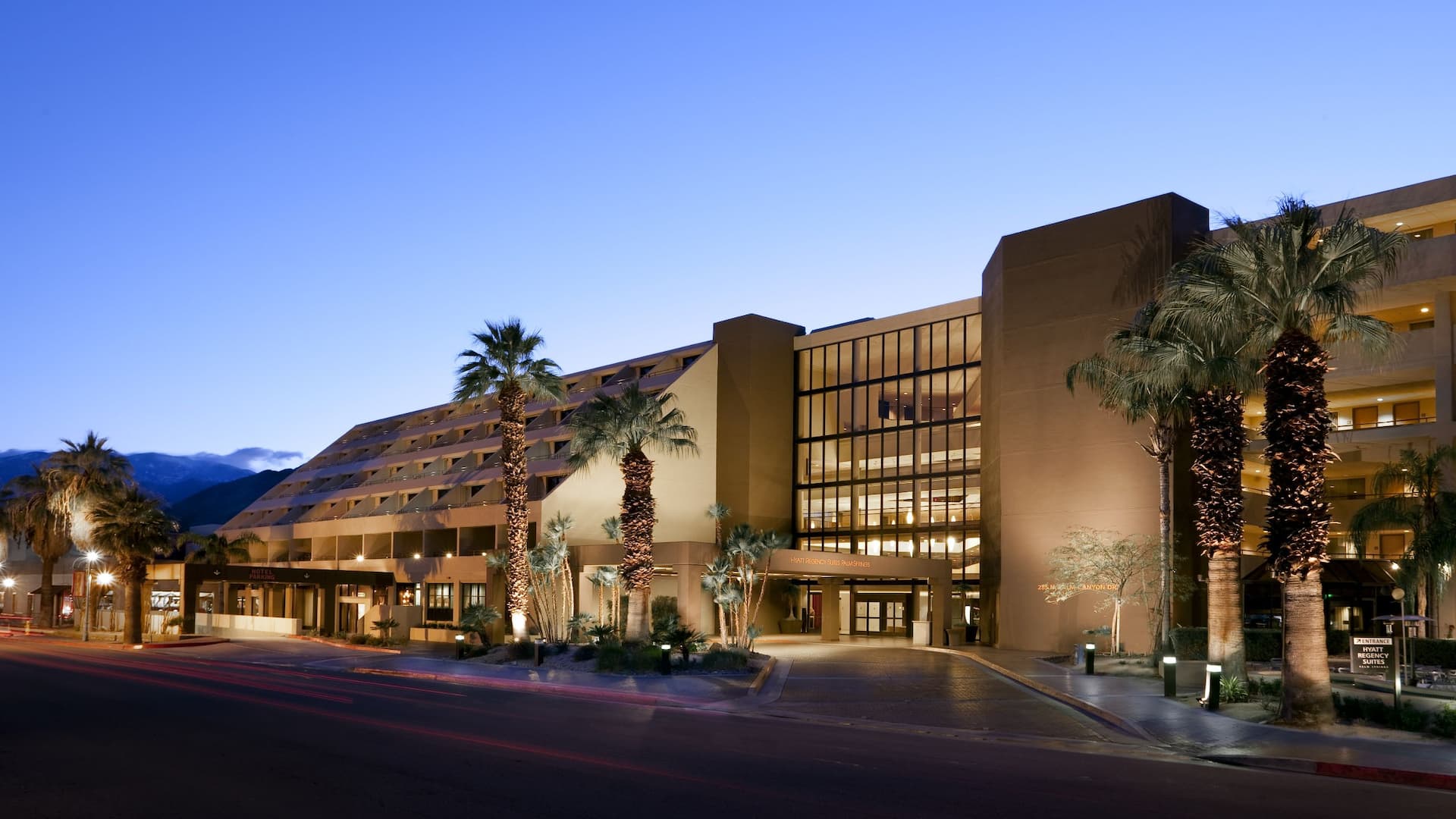 Every room in the Hyatt Palm Springs is a suite with marble bathroom countertops, separate parlors, full-sized refrigerators, and flat-screen TVs.
Relax by the pool or work on your fitness at the 24 hour gym inside the resort.
The resort is located in downtown Palm Springs with easy access to many of the best excursions in the city.
This resort is perfect for groups big and small. Hyatt Palm Springs is a good all-around choice for a dreamy vacation in Palm Springs, California.
You can probably see why the motto of The Saguaro is "get some color".
Every aspect of this resort is decked out in vibrant neon colors, even their on-site restaurant!
Each room is decked out in psychedelic colors and 70s themed decor.
If you want a luxurious resort that has as much character as it does comfort, The Saguaro Palm Springs is a great choice for you.
Go as a couple, a group, or as a family and enjoy taking some zany pictures with this resort as an iconic backdrop.
Comfort Palm Springs Resorts
A small boutique resort with 14 guest rooms, the La Maison really delivers on the quiet mid-century charm of Palm Springs.
The resort is themed after the French country-style and offers very intimate and authentic experiences for its guests.
With back doors that open right to the pool, beach cruiser bikes for guests to borrow free of charge, and grills available for use, the La Maison will have you feeling like you're in your own personal villa.
The host and hostess of this resort really care about their guests and take the time to get to know them and treat them with love. They even place a small bag of lavender on the beds of every guest because when they lived in Canada they grew lavender and it reminds them of home.
Couples wanting a relaxing and romantic vacation will find the La Maison to be the perfect resort for them.
The Desert Riviera has continued its retro theme ever since it was constructed in the 1950s. It fits nicely with the style of Palm Springs which grew in popularity during the same time.
The staff at Desert Riviera takes care of their guests with features like free shuttles, free bikes to rent, and free complimentary breakfast.
It is a nice place to relax and take some time by the pool or in the hammock.
This is the perfect spot for a couple who wants a romantic getaway.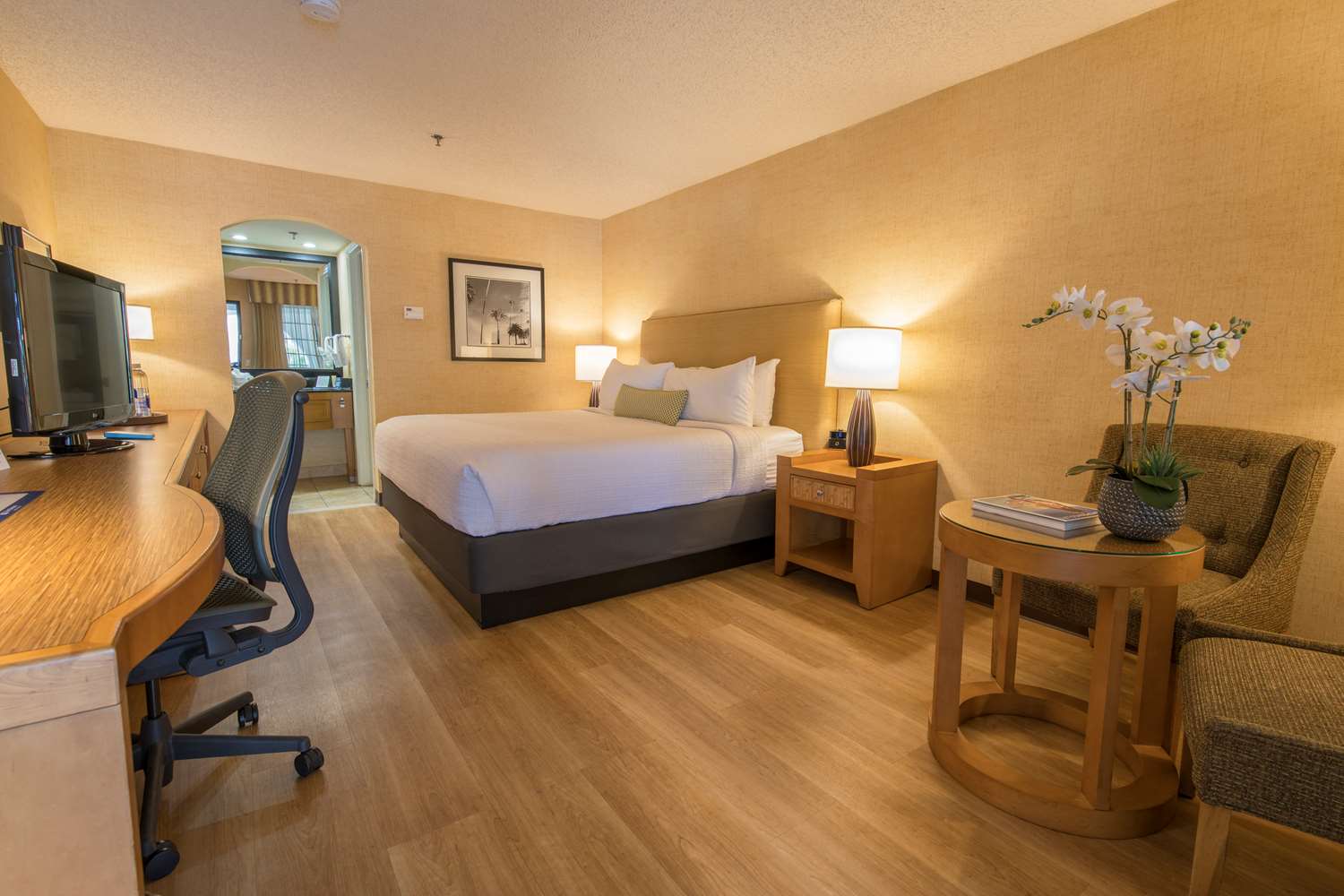 A convenient and comfortable pick in Palm Springs, this Best Western places you right at the center of the action.
This resort has a pool and easy access to Palm Springs' Knotts Soak City Water Park too, so you and your family will be able to keep cool in the warm SoCal weather.
Free continental breakfast is offered at the resort.
Best Western Plus Las Brisas is perfect for families who want to travel in comfort yet want to save a little bit of money on lodging.
The Villa Royale is a desert paradise located near historic downtown Palm Springs.
Cozy rooms and a refreshing pool to take a dive into make this resort an oasis in the otherwise warm and dry Coachella Valley.
This resort provides a free continental breakfast for its guests and also has a fine dining restaurant on site for those who don't want to leave the comfortable grounds.
Pperfect for couples and small families.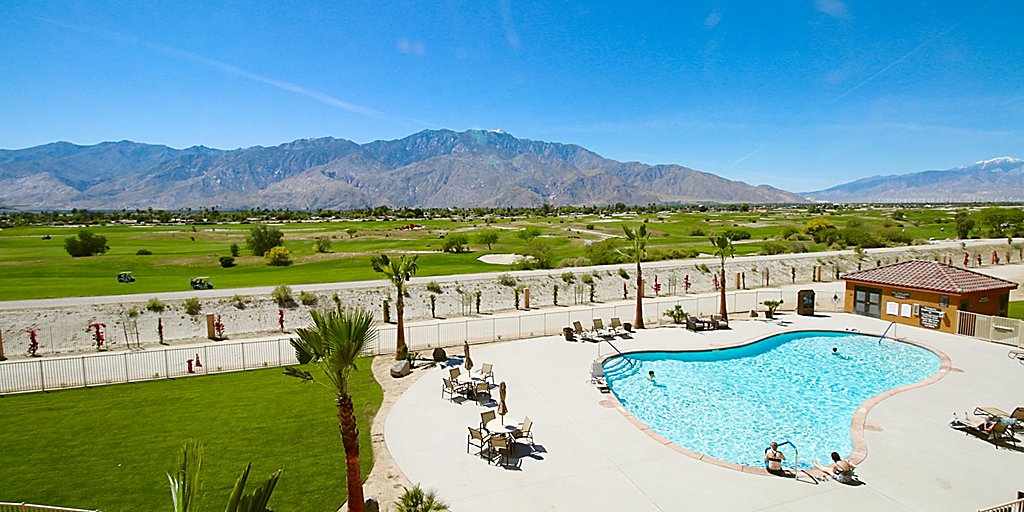 Staybridge Suites is situated right on the edge of a golf course and has amazing panoramic views of the surrounding landscape of palm trees and towering mountains.
This resort is in Cathedral City which is located just west of Palm Springs and still within driving distance of all of the typical Palm Springs attractions.
This resort is perfect for avid golf players, get your golf fix at the local course and relax by the pool in the evening.
Continental breakfast is included.
Staybridge Suites is the perfect resort for families, groups, and couples.
Budget Palm Springs Resorts
This budget resort doesn't give guests the feeling of being a budget resort.
The Palm Mountain Resort is in a great location right smack in the middle of Palm Springs and even offers guests a free shuttle to and from the Palm Springs Airport.
Free parking and wi-fi add that much more sweetness to this low-cost resort.
This spot is ideal for families as well as couples.
You will not be lacking any comforts at the Vagabond Inn Palm Springs.
This motel is close to the downtown area, has a pool and whirlpool, and includes free on-site parking.
If you are looking to save money while on your trip to Palm Springs, this is a great choice for you.
Caliente Tropics is a tropical and tiki-themed resort featuring a pool, whirlpool, and cozy rooms.
This is a fantastic option if you want to add a little bit of beach vacation to your stay in Palm Springs.
Families and groups will love it, but couples are just as suited to stay here as well.
The price tag on the 7 Springs Inn & Suites is deceiving. This resort is furnished with stylish decor and its location is perfect for those wanting to go on a Palm Springs shopping spree.
This resort is the place to stay if you want to travel on a budget but you don't want to feel like you're penny pinching.
Families can easily be accommodated at the 7 Springs Inn & Suites.
Motel 6 is known for being one of the cheapest options when traveling. This holds true for the Motel 6 in Palm Springs.
Although decorations are sparse and not much extra value is added to your lodging situation, if you aren't planning on spending too much time lounging at your resort then why get a really expensive, luxurious resort anyways?
This motel is good for anyone who is looking to save an extra buck on their trip to Palm Springs.