Disclosure: This Palm Springs weather page contains affiliate links. Read full Disclosure Policy.
BEST CALIFORNIA AIRBNBS:
Anaheim | Big Bear Lake | Catalina Island | Laguna Beach | La Jolla | Lake Tahoe | Long Beach | Monterey | Newport Beach | Oceanside | Ojai | Palm Desert | Palm Springs | San Diego | San Luis Obispo | Santa Barbara | Santa Cruz | Sonoma | Temecula | West Hollywood | Yosemite
MORE PALM SPRINGS GUIDES:
Palm Springs Tours | Best Palm Springs Resorts| Palm Springs Hotels |Best Palm Springs Airbnbs | Unique Palm Springs Experiences | Where to Stay in Palm Springs
---
Whenever you're taking a trip, you want to make sure you're going at the optimal time for that location. When it comes to Palm Springs, several factors could determine the best time for you to visit. Weather, crowds, events, and even specific seasons all influence the atmosphere of Palm Springs.
To help you decide when to vacation in the Palm Springs area, we're going to go over the best times of year for the region, as well as some of the times you should steer clear. Although, remember this – what works for you and your family might be different for someone else. Be sure to take your own personal vacation style and needs into account along with our suggestions.
With that in mind, let's explore Palm Springs!
---
Guide to Palm Springs:
---
Palm Springs Weather Overview
A major misconception about Palm Springs is that the weather is always gorgeous.
Listen, it might be California, but that doesn't mean that the entire state is always sunny and 75 degrees. Well, in Palm Springs it is usually sunny, but 75? Not so much.
In fact, the weather in Palm Springs fluctuates – a lot. Over the course of a year, the temperatures can vary from 45° to 106°. Remember, it's a desert area. Deserts can be cold in the winter, especially at night. There's nothing to hold the heat in a desert once the sun goes down, so that's something for which you need to prepare.
At the same time, there are times of the year when Palm Springs is utterly beautiful, wonderfully temperate, and a great escape from colder weather elsewhere.
---
Palm Springs Seasonal Weather
Spring in Palm Springs
There's a reason spring breakers flock to Palm Springs! Spring comes early to the region, with temperatures beginning to warm up as early as February. All of March, April, and May see those California temps of 70s and 80s during the day. However, at night, you'll remember that it's early spring in the rest of the country. After the sun goes down, it can drop as low as 45°. Be sure to pack layered clothing – shorts and t-shirts for your days, and jeans and sweatshirts for your nights.
Summer in Palm Springs
You'll remember you're in the desert if you go to Palm Springs in the summer! The heat rolls in late June and sticks around through September. July, August, and September are the hottest months of the year, with temperatures consistently in the mid-100s. However, evenings are extremely pleasant, in the 70s and 80s, making nighttime excursions that much more enjoyable.
Something else to remember, that this is one of those dry heat situations. We know for some people, heat is heat, but that lack of humidity really makes a difference. The surrounding mountains protect Palm Springs from the poor air quality of the cities to the west, as well as sending clear mountain air down into the valleys below. Trust me – as someone who has travelled to Orlando and California in their hottest months, that lack of humidity makes all the difference.
Fall in Palm Springs
As September is really more like summer, fall in Palm Springs doesn't start until October. Temperatures are still warm though, consistently in the 90s even through November. If you want to wear shorts on Thanksgiving Day, then Palm Springs is a good place to be!
Fall still sees plenty of sunshine, so if you're looking for a weekend jaunt in the midst of a dreary fall in your own state, you might want to consider Palm Springs. As an East-Coaster myself, there is definite appeal in 80-90 degree weather when there's a chilly drizzle in late October.
Winter in Palm Springs
December and January see the mildest temperatures of the year, while still being warm. Between 60s and 70s every day, with consistent sunshine. Truly, it hardly rains here – it's the desert. At night, you'll remember it's actually winter. Temperatures drop to the 40s, making it more fun indoors in the evenings. However, there's plenty of fun inside in the area, and many resorts offer fire pits or in-room fireplaces. That makes winter a great time to visit, as you escape the cold at home but can still be cozy in the evenings.
---
Palm Springs Weather – Month-by-Month Breakdown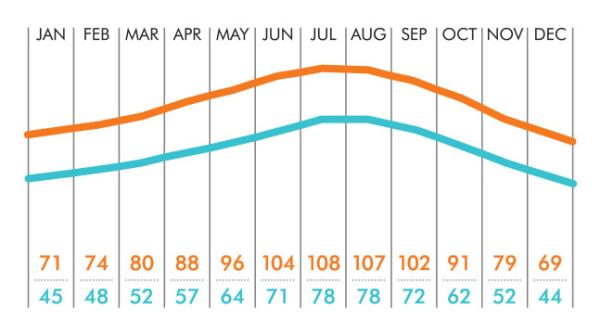 Palm Springs Weather in January
When it comes to nighttime temperatures and daylight hours, you'll remember it's still winter. Sunrise is about 6:50-7:00am, and the air will be a brisk 40-something degrees. However, as the sun rises and the air warms, you'll have temperatures of at least 60° by the afternoon. Bring long pants and jackets, and you'll be prepared!
Sunset is around 5:00pm, which is typical for this time of year. That means you'll want to do most of your outdoor activities in late morning and early afternoon, while it's warm. However, evening is the perfect time to gather around a fire pit or fireplace for some campfire fun!
Palm Springs Weather in February
Spring comes early in Palm Springs, with daytime temperatures about 75°. Mornings are still brisk, hovering in the upper 40s and low 50s, but quickly warm up. Even in the evenings, it stays in the lows 60s until closer to 7:00pm. It's no wonder that Palm Springs is another popular snowbird location!
Palm Springs Weather in March
There's no lion in a Palm Springs spring, as the temperatures consistently rise into the 80s every day. Even in the mornings and evenings, it stays in the pleasant 60° range. Because of this, March is a popular destination for spring break and Easter.
Like most of the United States, daylight savings time comes to Palm Springs in March. With the extended sunshine into the twilight hours comes warmer evenings and more time for fun!
Palm Springs Weather in April
In April, the quintessential gorgeous California weather settles into Palm Springs. Between 80-88° during the day and a bit of chill at night, you couldn't ask for better weather. Ironically, April is one of the drier months, with little to no rain. If you want warmth and sunshine in April, head to Palm Springs.
Palm Springs Weather in May
May is almost like pre-summer, with heat rolling in. Consistently in the mid-90s during the day, you're going to want to pack your bathing suit. In the evenings, temperatures go down to the upper 70s, which makes May an ideal time to try the incredible outdoor dining options. May is also a good time for early-morning excursions, as the sun rises at about 5:45am each day, and the temperatures are cooler in the morning. However, it's still warm enough that you won't be uncomfortable.
Hike in the morning, swim in the afternoon, and party in the evening. Perfect!
Palm Springs Weather in June
Ok, here's where it gets hot. From the moment the sun comes up, it's going to be in the upper 70s. While that might sound nice for the morning, temps quickly pick up, soaring up towards the 100s. Again, this is a dry heat, but if you're not a hot weather person at all this might not be your ideal visiting time.
June is a good time to do activities in the mountains, though, as the higher altitudes mean lower temperatures. Activities like the Palm Springs Aerial Tramway are great in June, as Mt. San Jacinto State Park is usually about 30° cooler than the valley. That means if it's over 100°, it will still be comfortable in the 70s up on the mountain.
Palm Springs Weather in July
Yup, still hot. If you're coming for the Fourth, just be prepared for temperatures hovering around 108° during the day. You had best find a hotel, vacation home, or Airbnb with a pool! Even in the early evening when the sun has set, it will still be around 90°. Just plan to drink a lot of water!
Palm Springs Weather in August
The major difference between August and July is the days are beginning to get a bit shorter. The sun rises about thirty minutes later in August, although sunset is around the same time. During the day, it's a fraction of degrees cooler, but the chance of rain is nonexistent. In July, the chance of rain, although quite low, is a bit higher.
You want sun? August has it!
Palm Springs Weather in September
September is an extension of summer in Palm Springs, with the thermometer still hitting that 100° mark. Evenings are a bit more comfortable though, dropping into the 80s instead of staying in the 90s. The sun also sets a bit earlier, as it's technically moving into fall. These factors combine to make September a great time for evening fun, including festivals and local events. September also sees the beginning of the school year, so locally-focused activities pick back up.
Palm Springs Weather in October
While still warm, temperatures in October drop off significantly. Down to the mid to upper 80s, daytimes become more comfortable. Evenings are still quite pleasant, in the mid-70s range. October is a great time to come and get a quick weekend jaunt in, escaping from encroaching cooler weather in other parts of the country.
Palm Springs Weather in November
In November, daytime temperatures are about 78° or so, with evenings in the 60s. Warm but not hot, cool but not cold, the temperate nature of this time of year is definitely appealing. We recommend coming this time of year if you want to hike the canyons or visit Joshua Tree, although if you go higher in the mountains it will be cold.
The clocks also go back in November, meaning the days are shorter. Make the most of those daylight hours in November!
Palm Springs Weather in December
You can get the best of all Palm Spring's weather in December. Warm during the day, cool at night, and cold up on the mountains with the possibility of snow. Mt. San Jacinto State Park usually hosts family snow events this time of year!
With gorgeous, sunny days and the possibility of snow if you want it, Palm Springs could be a fun place to visit for Christmas and the winter holiday season.
---
Worst Time to Visit Palm Springs
Honestly, Palm Springs is a great place to be no matter the time of year. It hardly rains, there's plenty to do, and you wouldn't believe the amazing accommodations.
That being said, if you are particular about your vacations, there are a couple of times of year you want to avoid.
Worst Weather in Palm Springs
Palm Springs summers are no joke. If you're not used to 100° temperatures, you should steer clear in June, July, August, and even September. All four of these months see temperatures of at least the 90s, if not the 100s. You can still have a great time if you enjoy swimming; however, the outdoor activities get a bit unbearable.
In addition, if you like consistent temperatures between days and nights, you'll want to skip January through March. While the daytimes are beautiful and downright balmy, the evenings chill up. There's a reason you see snow on the mountains…it's still winter! So, if you don't want to pack for all weathers, try to go in the spring and fall months.
Worst Crowds
Palm Springs is one of the most popular spring break locations in the country, making April the busiest time of year. It is also music festival month, which is a huge draw. However, huge draw means huge crowds, so if you want a bit quieter, you might want to skip April.
The cooler months in general are also the biggest tourism season in Palm Springs, starting as early as November and ending in April. Throughout the rest of the summer, the California beaches have most of the crowds, although some people do a mixed trip. If you don't mind the temperatures, you might find it less crowded in the summertime. However, if you want to avoid both, October or May might be your best bet.
Highest Prices
The highest accommodation prices are in the winter months, with the height of tourism and the influx of Canadian and American snowbirds alike. Plenty of these snow-evaders also rent for months at a time, making it harder to find short-term accommodations outside conventional hotels. While many of the Palm Springs hotels and resorts are gorgeous, if you want a vacation home or Airbnb just know the snowbirds will have first dibs.
---
Best Time to Visit Palm Springs
There are peak times for any location, and several factors align perfectly for certain times in Palm Springs. A combination of perfect weather, low crowds, and lower expenses make the fall an ideal time to visit.
Best Weather in Palm Springs
Again, your definition of best weather might not be the same as someone else's. However, if you're looking for consistent, warm temperatures, late September into early November is your best bet. You'll have the 80s during the day and 60s-70s in the evening, which is perfect in our book. You can still swim, but it won't be excruciatingly hot doing outdoor activities. Evenings also aren't stifling, meaning you can enjoy a campfire or eat outside – your choice.
It is also a great time to do some of the outdoor local experiences, like the Living Desert Zoo or Moorten's Botanical Gardens. At the zoo, the animals are likely to be more active because of the cooler weather. Meanwhile, walking around the gardens won't quite seem like you're really in the desert! If you time it right, you can also be in Palm Springs for the date harvest, which is another great local experience.
Least Crowded Months
Fall is also ideal if you want to avoid the crowds. This is before the snowbirds arrive but after what summer crowds exist have gone, making it the perfect window of opportunity. Especially if you're travelling in an all-adult group, the first couple weeks of September have historically low crowds. As kids go back to school, parents usually wait until they're settled in before pulling them out on vacation. For adults-only vacations, you have to take advantage of that window!
Those hot summer months see less tourists as well, although you have to remember that this is the only time some people can go on vacation. However, many people visiting California in the summer stick to the beaches and other attractions. If you can take the heat, you might find that Palm Springs is your idea of a great minimal-crowd vacation, depending on what you're planning to do. You might have to fight for space at the pool!
Lowest Expense
To complete the trifecta, September through the beginning of November typically has the lowest accommodation prices. Again, with kids going back to school, resorts and hotels need to find a way to draw guests. With the lower rates, they can do just that.
Summer months also have lower rates, as the high temperatures tend to decrease the crowds. You can find some great deals on hotels and resorts in the summer, although you'll want to find one with a good pool. You're going to need it.
---
Conclusions – When Should I Visit Palm Springs?
As always, you need to consider what works best for you and your group. However, we suggest those balmy fall months before tourism picks up. While that might be tough for a family trip, it's worth considering a long weekend away in October versus trying to fight the spring break crowds in April. Or melting in the heat of July.
For adults, especially if you have leave saved, go in the fall! While you're at it, book a stay at one of the amazing adults-only boutique resorts in the area. Book now, thank us later, and have a great time!
---
Grace Hoyos, Staff Writer
Grace loves to travel, particularly to Florida or anywhere with a beach. Her ideal vacation is a mix of theme parks, historical sights, and local cuisine. That and a Caribbean cruise.